If you're looking for an unforgettable gift for your best friend, look no further than this beautiful SpongeBob Spinner Ring.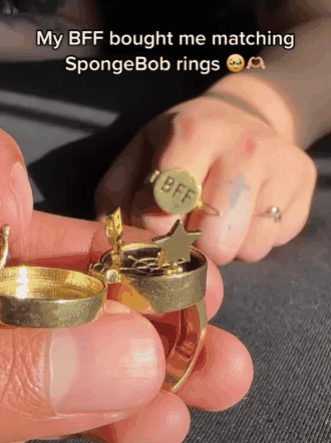 The Perfect Friendship Ring
This timeless piece is perfect to express your appreciation and love to your dearest bestie and will remind them of your bond every time they wear it.
Fully adjustable, detailed, and made of high-quality gold-plated metal that won't tarnish.
This beautiful and stylish SpongeBob bff ring, yet playful SpongeBob Ring makes the perfect gift for any best friend's birthday!
The BFF Ring is perfect for you and your friend to represent your close friendship like Sponge and Pat's!
Opens, closes, and spins just like in the show!
This 2023 Trend BFF Spinner Ring is a special and meaningful way to show your bestie how much you care and appreciate them.
Material:
Pure copper
18K gold plated
Nickel-free

Size & fit:
Adjustable size 5-10
Weight 10g

Details:
Opens, spins, locks
Tarnish-free, hypoallergenic
Engraved lettering
Shiny gloss finish
JOIN THE FAMILY
✔✔Become a part of our popular and growing community. Experience the fun and friendship, by having the Best Friends Forever Ring.
You can buy one for yourself, your best friend and close friend, or you can buy one for you and your girlfriend, both wear this ring at the same time, you can show others the deep friendship between you, you Can be gifted to them on Valentine's Day, anniversary, birthday, party and show them your love.