Looking for an effective healing tool that can help you to gain a better understanding of yourself?
This Shaman Alchemical Moon Drum will suffice. The tree symbol aids in the alignment of three worlds: subconscious, conscious, and superconscious. This drum's sound broadens one's perception of the world. This allows you to gain a better understanding of yourself. The strongest force will be near the full moon, and cleansing rituals will be beneficial on the new moon. It's a piece of art. Beautifully crafted, exceptionally strong, and with a surprisingly deep and powerful sound. The beautiful design sounds great and appears to be able to withstand a lot of effort. Lots of vitality. It is sure to make your visitors happy.

Why should you have this Shaman Alchemical Moon Drum?
Sound Healing Tool: For shaman drum enthusiasts, the sound from the plastic membrane is as deep as any goat drum, sometimes deeper, with excellent projection and boosted bass, and it sounds great with a rope handle and Wood Mallet.
Drum for spiritual and mystical practices. This drum will help harmonize female energies, female energies of earth flow. This drum is perfect for group and individual work, a moonstone is inserted in the handle. The activity of the drum will increase with the cycle of the moon.
Produce Pleasant Sound: It is an excellent percussion instrument for developing musical ability and establishing a sense of musical rhythm. Its surface has a delicate texture and can produce a pleasant sound. Each comes with a wood hammer for easy percussion, or it can be played by hand.
The drum is so wonderful and unique. It has a very very nice sound. You can inaugurate it in a spiritual incense ceremony. It was a very moving moment to let them sound.
It is a work of art. Beautiful craftsmanship, exceptionally sturdy, and a surprisingly deep and powerful sound. Beautiful design, sounds awesome and feels like it can withstand a lot of hard work. Lots of energy.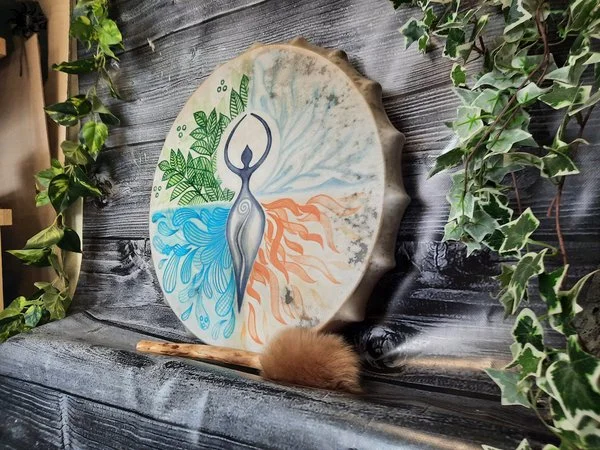 AMAZING 👏 Beautiful artwork and a deep rich sound. I have many of my shamanic friends in awe with it.
🌟This beautiful Shaman drum is sure to put a smile on the faces of your visitors, and it can be sent to you now! 🌟
Material: Wood, rope, stick, Tuning KeyFaux fur, plastic printed membrane
Diameter: 7 "inch

Swear to god: I will never sacrifice quality or use inferior materials! My goal is to always exceed your expectations.

Click on "ADD TO CART" to get yours now!